Thrive Architect background section changing width or size on page load is a very common issue. This issue is mainly caused by turning on the option "Stretch to full width" in the background section option. But if you properly make use of the Thrive Theme Builder then this issue can be easily avoided. Please quickly check out the video below in which I explain clearly how you can easily solve this issue.
"Strech to Full width" option in the background section
This option "Stretch to full width" used to be a very important feature when we used to use the older Thrive Themes such as Pressive, Ignition, Rise, etc. But turning this option in order for the background section to cover the entire screen width causes a strange issue. The whole section changes the width or size on page load for a split second. This issue might be more significant in case the internet speed is slow when the page loads slowly. While loading the background section is narrow and then expands to cover the full-screen width. Please watch the video above to get an understanding of the issue.
Some people do not mind the issue, they are used to it. But sometimes it looks very bad. If a client is paying someone to make a website using Thrive Architect for a very high price then he or she might not accept this issue. They will want the website to look and feel high end.
Thrive Theme Builder with 100% Full width page layout option
But about 1-2 years ago Thrive Themes released their own Thrive Theme Builder. which allows more flexibility. It allows users to create a page with a 100% full-width page layout option while keeping the theme header and footer intact. If you have an updated version of the Thrive Theme Builder installed, then when you create a new page. And then when you go ahead and edit the page using Thrive Architect, it will present you an option to choose a 100% full-width stretched page layout option. Please check out the screenshot below.
Hence a background section in a 100% full-width stretched page layout can naturally cover the full-screen size without using the option "Strech to full width", which causes the issue.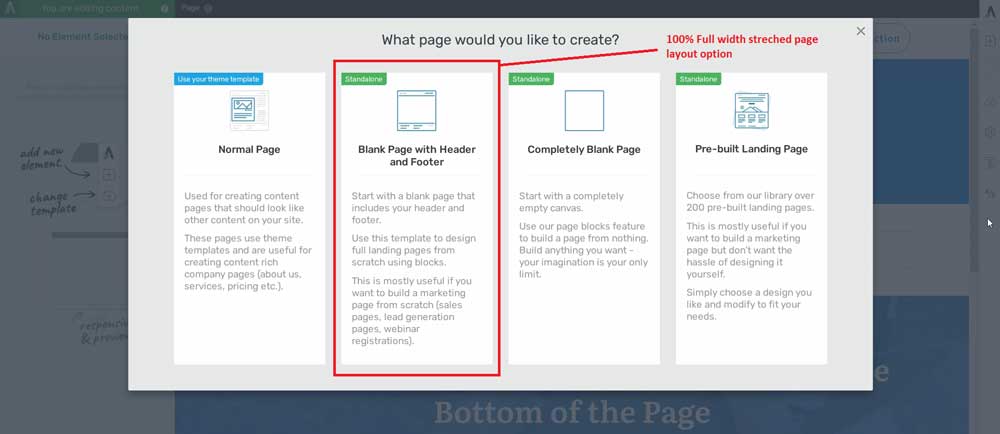 In case you want to use a third party theme with Thrive Architect then make sure that the theme has the 100% full width stretched option for its pages. So you can easily create full-width pages using Thrive Architect without having the loading issue. I would suggest you to use the free Astra theme along with Thrive Architect, as it has got that option plus also the header and footer builder options too. You can also try out the OceanWP theme. Try to avoid using Themeforest theme, as they mainly utilize templates made with visual composer, plus they got tons of sliders/carousels which slows down the website.
| Recommended WordPress Resource | Benefits of using it |
| --- | --- |
| WP Engine | Reliable WordPress hosting. Super fast, regular automatic backups, built in CDN for faster content delivery, top notch security and more! |
| WP Rocket | A magical WordPress plugin which will reduce the load time of your website to less than a second. It is an all in one speed optimization tool. It will also improve your Google Page Insights score. As the pages load quicker you website bounce rate will decrease, average page on time will increase. Eventually you will get more traffic. |
| Ithemes Security Pro | It is a powerful WordPress security plugin. It will protect your website from bots trying to hack into your site through brute force attack. It can also scan your website and remove malware. |
| Getty Images | Get premium stock images from here. Using high quality and premium stock images on your site will make your site look professional. Visitors will be impressed and quickly turn into paying customers. |
| WP Forms | One of the most popular WordPress form plugin ever. Easily build advanced contact, payment, donation, survey and newsletter forms with zero coding. Embed your forms on posts/pages using a shortcode. Built in recaptcha to prevent spams. The information of people submitting the form will be stored as leads directly on the website. |
| Namecheap | Buy any type of domain name at a very low price. The renewal rates are also reasonable. I use namecheap domain names on all of my websites. |
| Coming Soon and Maintenance Mode | Using this plugin you can easily turn on coming soon or maintenance mode on your website. There are several beautiful ready made templates you can use right away. |
| Element Pack | This is a useful Elementor addon plugin which adds around 60 addon elements to your Elementor page builder. Useful elements such as instagram gallery, table, document viewer, iframe and much more. |
| Themeforest | Buy any type of beautiful WordPress theme from here such as blogging, WooCommerce, Real Estate etc. Ability to import any demo site. Chose any type of page builder such as Elementor, WP Bakery, Muffin builder etc. |